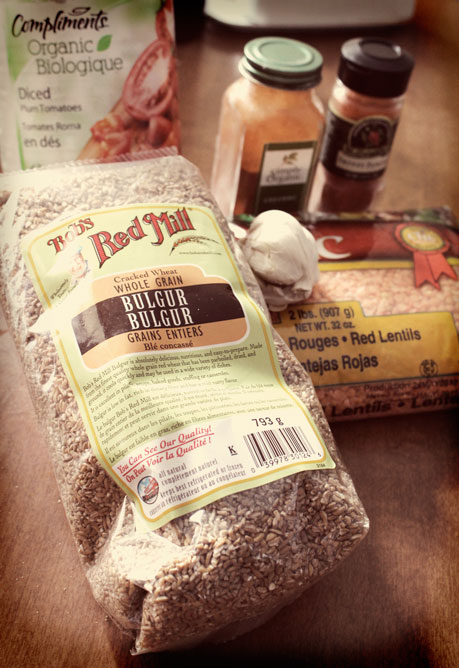 Soups and stews are two of Winter's ultimate comfort foods. They're healthy, fairly quick to make, and generate enough portions for a couple of nights' worth of dinners.
This recipe for Bulgur-Lentil Soup, written by Maria Speck, from her amazing cookbook Ancient Grains for Modern Meals, is a fast and easy dinner option for those nights when you get home from yoga class, there's nothing in the fridge, and you're craving something light but satisfying. I first met Maria in the spring of 2012 when I was studying at the Cambridge School of Culinary Arts. She blew our minds with this recipe—it's unbelievably flavourful and so easy to cook!
I also file this recipe under the "Oh crap, I'm out of groceries, what do I make for dinner?!" category. Once you buy the lentils and bulgur wheat, keep a can of tomatoes in your pantry and a few onions on hand—voila! You'll always have a meal in your back pocket for dinner. Or in some cases, breakfast.
SERIOUSLY. Try frying an egg and putting it on top of this soup for a healthy and quick breakfast. It's awesome!
Bulgur-Lentil Soup with Minted Olive Oil Butter
By Maria Speck
Servings: 6
Ingredients
For the soup
1 tablespoon extra-virgin olive oil

1 tablespoon unsalted butter

1 medium yellow onion, cut into 1/4-inch dice (a generous 1 cup)

1/2 teaspoon sea salt

1 tablespoon minced garlic

1 1/2 teaspoons sweet paprika, or 1/2 teaspoon Aleppo pepper (see headnote)

1/8 teaspoon cayenne pepper (optional)

2 tablespoons tomato paste

1 1/2 cups coarsely chopped fresh or diced, canned tomatoes, preferably fire-roasted (14-ounce can)

1/2 cup coarse bulgur

1/2 cup split red lentils, picked over, rinsed and drained

2 cups low-sodium chicken broth or vegetable broth

3 cups water

1 to 2 tablespoons freshly squeezed lemon juice

1/4 teaspoon freshly ground black pepper, or more to taste
For the minted butter:
1 tablespoon extra-virgin olive oil

1 tablespoon unsalted butter

2 teaspoons dried spearmint
Pinch cayenne pepper or 1/8 teaspoon Aleppo pepper
---
Directions
For the soup: Heat the oil in a large pot over medium heat until the oil shimmers. Add the butter and wait until its foam almost subsides, then add the onion and 1/4 teaspoon of the salt. Cook for about 5 minutes, stirring occasionally, until the onion softens and turns light golden. Add the garlic, paprika or Aleppo pepper and the cayenne pepper, if desired; cook, stirring, for 1 minute. Add the tomato paste and cook until it darkens—about 1 minute. Add the tomatoes (watch out for splatter!); adjust the heat to maintain a lively simmer. Cook uncovered for about 3 minutes, stirring once or twice and scraping the bottom to release any browned bits, until the mixture thickens slightly.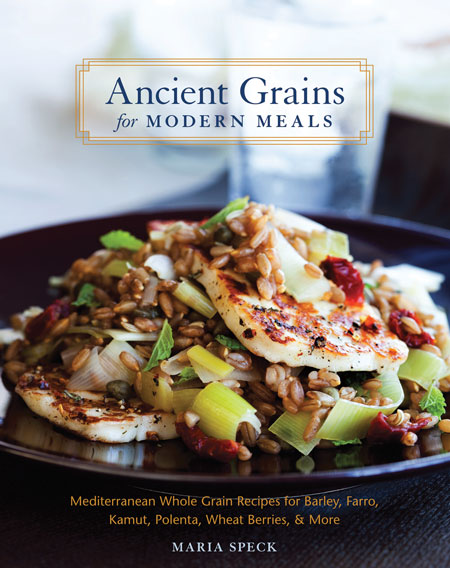 Stir in the bulgur, lentils, broth, water and the remaining 1/4 teaspoon salt; bring to a boil, then reduce the heat to medium or medium-low to maintain gentle bubbling. Cover and cook for 25 to 40 minutes, until the soup thickens, with the bulgur retaining a slight bite. Season with 1 tablespoon of the lemon juice and the black pepper. Taste and adjust the seasoning as needed. Cover and let sit for a few minutes.
While the soup rests, make the minted butter: Heat the oil and butter in a small skillet over medium heat. Once the butter has melted, add the mint and cayenne or Aleppo pepper (it will sizzle!) and stir until fragrant, 15 seconds. Immediately remove from the heat; pour the minted olive oil butter into a small serving bowl.
Divide the soup among individual bowls. Drizzle a little of the minted butter on top of each portion. Serve right away.
Maria inspired this pasta and bread eating girl to branch out and try cooking with more whole grains. To learn more about Maria Speck, visit her website or buy her book!