Studio Schedule
Doors open 20 minutes before class time. No pre-registration is required! Just come 10 minutes early to fill out some light paperwork before your first class.
Class Descriptions
All classes are listed in order of easiest to most challenging. Beginners' classes are held at room temp while others are held in varying degrees of heat.
Easy Beginners
For beginners and anybody interested in a not-so-hard class. You'll build the foundation for your practice here! Room temperature.
Easy Beginners
"with Yoga Nidra"
Easy Beginners class that ends with Yoga Nidra, a half-hour guided meditation on the floor. 
Restorative Flow
Begins with vinyasa flow to warm your body up, and ends with longer holds in yin postures towards the end. Warm room.
Power Yoga Basics
This foundations of Power Yoga class will introduce more techniques and challenges. Warm Room.
Power Yoga
This Baptiste-style power yoga class links breath and movement to increase flexibility and strength. You will leave feeling like you can do anything! Hot Room.
Power Flow 45
Power yoga in 45 minutes. Hot room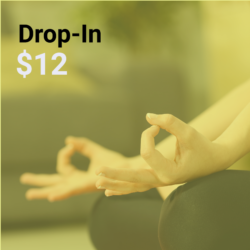 ** pay in-studio with cash **
All online memberships include live-streamed classes and our extensive OnDemand video library with over 300 classes!