This is the first in a series of interviews with the teachers at Supernova Power Yoga. We begin with the guy who started it all—founder Joe Giglio!
When did you start practicing yoga? 
I attended my first yoga class in 1995.
What circumstances got you onto your mat for the first time?
I was 27 years old, physically, mentally and emotionally in the worst shape of my life.  I had been an athlete all through high school and college and had really let myself go. I was at least  50lbs overweight, going though a break up with my college sweetheart, and had moved back in with my parents. One day my back went out, and I could not walk or even move for three days. I knew I was in big trouble, and that I had to get back on my feet and in shape. As soon as I was able to walk again I joined the company gym where I worked in Boston. I started going every day during my lunch hour, lifting weights, and doing cardio. It felt good to get my body moving again, but something was missing. I was left feeling uninspired, and exhausted, and in a battle against myself. The back pain was still there, and it seemed like I wasn't getting to the root of the problem. I started doing all kind of weird stretches to try to work out the sore spots but nothing really helped. Then one day I noticed some people doing yoga in the fitness room. It seemed intriguing but I was a bit intimidated to go in until I saw somebody I knew in there and she waved me in. From the moment I walked in, the instructor took great care of me. It was if she knew exactly how I was feeling, and she gave me exactly what I needed. All I remember about that first experience was that it went by very quickly and my back felt better for the first time in years. This was something my body had been calling out for, but even more it had relieved and cleared my mind.  I had finally found a ray of hope.
Tell us a little bit about your teacher. Why did you choose to study under Baron Baptiste and other Master Baptiste teachers?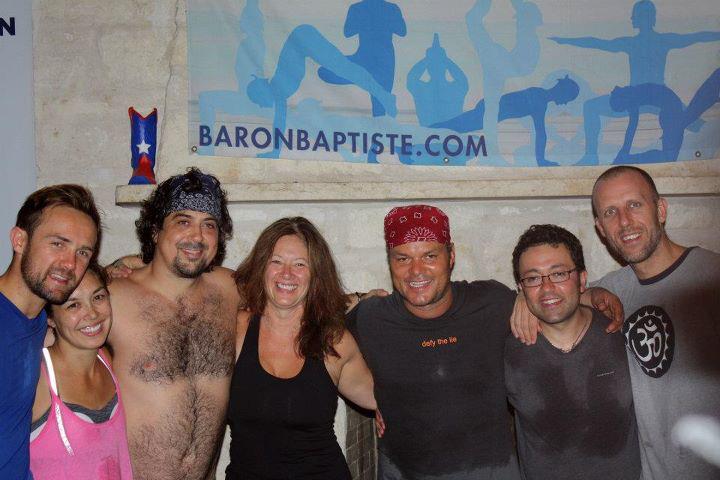 The first time I took one of Baron Baptiste's yoga classes was sometime in 1999. My first few years of yoga was very basic, gentle asana that helped me heal old wounds and build new strength and flexibility. As I was able to do more I explored different styles of yoga. There was an explosion of yoga studios around Boston at the time, and I tried a bunch of different studios, teachers, and styles. Then one day a guest teacher came into the gym at work and introduced us to the power vinyasa flow.  I LOVED IT! The freedom, power, and grace of the flow was awesome and made me feel amazing!  I was hooked. So I started looking for power vinyasa yoga classes. I came across Baron Baptiste while reading a article about him in Boston Magazine, talking about his background, style and his new yoga studios in Boston and Cambridge Massachusetts. I convinced my two roommates to join me on an adventure to try these studios out—which by the way were heated to 98F for 90 min long. Although I got death glares from both my friends we all survived!  I took me several months to go back to Baron's studio though. It was overwhelming in a good way and I needed time to process my experience. Something big had opened up in that space for me and it was calling me back. I spent the next ten years going Baron's Cambridge studio just about every other day. It would be fair to say I took over 1200 classes at that studio led by a dozen fantastic instructors during that time period, most notably Baron, Coeli, Claire, Rhea, Gregor, and Brandon among many others. What I loved most about the Baptiste studio teachers was that they were all unified in the practice sequence and methodology but unique unto themselves. These instructors practiced what they preached. They were shining examples of what the practice can do for you if you do the practice and created a studio space that became  home for thousands of people going through the same kind of thing that I was going through. We were working together for our own good. It was awesome.
What makes Power Yoga (in all its forms) different from other styles of yoga?
I believe there is a lot of confusion around the term "power yoga". Physical yoga practice or "Asana" practice is known as "Hatha" yoga.  Hatha means power or "force". So in a sense anytime you practice yoga postures you are doing power yoga. Asana practice is the practice of skillful action. All physical yoga styles are rooted there. What separates Baptiste Power Vinyasa Yoga is that simultaneously breaks free from dogmatic tradition while at the same time encompassing the essence of classical yoga. You will find all the lessons of Bhagavad Gita and yoga sutras through the Baptiste system but you are your own guru—there is no master. Baron's system based on the five pillars of Vision, Breath, Core, Heat, and Flow, and incorporates up to 54 postures with pranayama (breathing) technique and mindful meditation all at once! It is simply the best and most effective system I have come across in my 23 years of experience. While the system can be quite challenging at times it can also be modified and adapted while being just as powerful and potent.
Why do you teach yoga?
I just love sharing what I love. After playing football from Pee Wee to college, I spent ten years coaching high school football in Greater Boston. After years of going to concerts as a music lover, I spent 15 years touring around New England playing live music in a band. After 15 years of practicing yoga I began my teacher training. I love yoga for the way it makes me feel and I want to share that with the world.  I am grateful for the studios and teachers that supported me through the years, and all of the good friends I've met through practicing yoga. Its a dream come true to be able to teach and practice yoga everyday, sharing what I love.