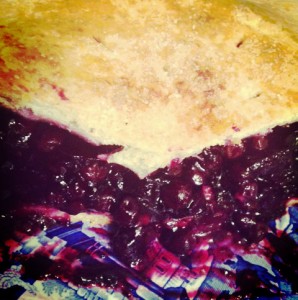 Blueberries are SOOOOO good for you, and pie? It's delicious, but often filled with sugar!
This blueberry pie has a low-sugar but DELICIOUS filling, and pairs beautifully with the nutty flavor of a spelt & wheat crust.
I adapted this recipe from one I learned to make at the Cambridge School of Culinary Arts, in Cambridge, Massachusetts, where I studied French pastry for a fun-filled, engaging, exhausting and incredible year.
As a yogi, yoga teacher, and pastry geek, I live a life of moderation when it comes to sweets. And when I do make sweets, I try to make them as healthy as possible without losing the whole point of eating them: ENJOYMENT!
[content_box color="#990099″]
You'll need these tools:
9″ pie dish
Medium mesh strainer
Small saucepan
rolling pin
stand mixer & dough hook
wisk
tin foil
And these ingredients (buy organic whenever possible!):
Makes ONE 9″ pie
Filling
24 oz  Frozen Wild Blueberries
2 oz. cold Water
1 oz. Cornstarch
2 oz of Cane Sugar
3.75 oz Maple Syrup
1/4 tsp Salt
1/2 tsp Cinnamon
1/2 tsp ground Nutmeg (grate it fresh if you can!)
juice from 1/2 lemon
Pie Dough
10 oz  organic all-purpose flour
8 oz. organic Spelt flour
1/4 tsp Salt
10 oz. COLD Unsalted Butter, cut into 1/2″ x 1″cubes
1 oz. Maple Syrup
1 Egg
2 oz. cold Water
Egg Wash
l Egg & 1 TB water, combined
[/content_box]
 1) Make your Filling
A few hours before you make your filling, place a mesh strainer over a small saucepan, and then fill your strainer with the frozen berries. Let sit until all berries are thawed and there's some juice in the saucepan.
Add enough water to the berry juice to total 5-6 oz. of juice. If you have enough blueberry juice, then don't add water! Also, don't smoosh the berries to get more juice. You want them as whole as possible.
Dump the berries into a large bowl.
In a small bowl, combine the cold water and cornstarch, wisk by hand, and set aside.
In your saucepan, combine the juice and cane sugar and bring to a boil over medium heat.
Once it comes to a boil, add the cornstarch mixture and continue cooking until the mixture thickens. Remove it from heat, and wisk in the remaining ingredients EXCEPT the berries.
The mixture will appear gooey and tacky. That's ok!
Place pan back over heat for 30 seconds, wisking continuously, and then pour over the berries. Fold mixture into berries with a spatula, taking care not to smoosh the berries, coating the berries entirely.
Let cool completely.
2) Make the dough
While your filling is cooling….
In a small bowl, wisk the egg, water, and maple syrup together.
In your stand mixer, using the dough hook, combine the flours, salt, and cold butter. Mix on medium speed until the butter resembles the size of grapes (about 3-5 minutes).
Slowly add in the liquid mixture JUST until a dough forms. If you've added all of your liquid and the mixture still looks shaggy, add in more cold water, bit by bit, until the it resembles a dough. DON'T OVERMIX! You should still see some butter pieces in the dough.
Cut dough in half, and shape each half into a disk about 1/2″ thick.
Rest in refrigerator for at least 1 hour.
3) Roll your dough & Pre-heat oven to 375 degrees F.
Sprinkle your countertop or a table with flour, and roll 1 disc of dough into a circle 1/8″ thick (any thicker, and the dough will be undercooked. Gross!).
After you've Rolled your dough , place it into your pie plate. Wrap in plastic and refrigerate for at least 30 minutes. This helps to relax the gluten in the dough, which prevents shrinking when baking.
4) Fill & Bake your pie
Roll out your second disc of dough like you did the first.
Pull your pie plate out of the fridge, and fill it!
Place the second disc of dough over the top of your pie. Cut 1/2″ long vents in the top of the pie to let steam out while baking.
Brush the top, not the edges, lightly with egg wash, and then place tin foil over the edges of your pie, which will prevent  them from overcooking.
Bake for 25 minutes, and then remove the foil from the edges of your pie.
Continue to bake until the crust turns a golden brown, and none of the sides or bottom of the pie appear to still be raw (clear glass pie plates work GREAT for this reason), likely another 20 minutes or more. Keep an eye on it! Or two.
Let cool completely before you slice into it.
It's tempting, I know, but the cooling process allows the filling to solidify, creating nice, deep, berry-filled slices of heaven.
Enjoy!