Tuesday @ Université Sainte Anne
11am Power Yoga & Noon Beginners
Thursday @ Université Sainte Anne
11am Power Yoga & Noon Beginners
Where We Practice:
Location: Université of Sainte Anne, 1695 Route 1, Pointe-de-l'Église, NS B0W 1M0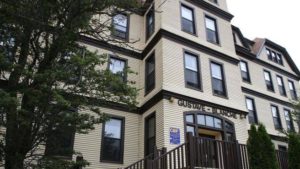 Park in main lot, and enter through main building (see photo). For Chapel classes, proceed upstairs and to the left. For Gym classes, head directly to the Gymnasium. If you have any questions about the yoga classes, please send us an email.
How to Join:
If you're a Sainte Anne student in Church Point, bring your student ID and you practice for FREE (thank the Université!). Otherwise a class drop-in is $12, or you can buy a class package on-site. To buy a class package online click here.
What to Bring:
Bring a yoga mat and some water. Extra yoga mats are not available on-site. Wear comfortable clothes you enjoy moving in 🙂